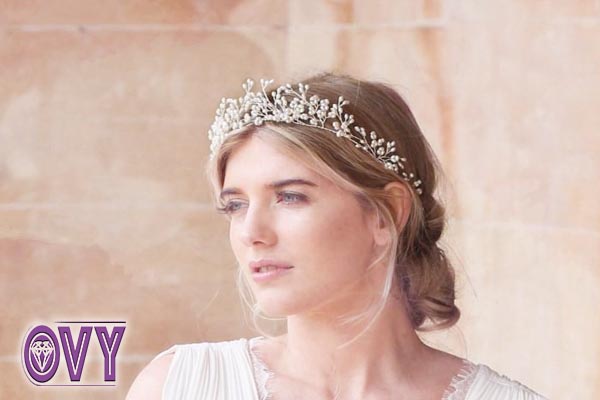 On your wedding day, you should look like the very best version of yourself. You want the person you're marrying and your guests to recognize you as you walk down the aisle. Even more importantly, you want to feel comfortable and supremely confident. True beauty, after all, comes from within.
Once you make the decision to have a wedding, all of a sudden life can get very, very complicated. The options are endless—which means the wedding hair options are, too. You can pull your hair up in the most amazing loops, or you can wear your hair half up/half down, for a princess feel. There are jewels you can wear in your hair, or maybe even flowers flown in from Oahu!
Most brides are unsure of how they want to wear their hair on their wedding day at the time they find their dress.
There are different ways to wear and style your hair on the wedding day with a bridal crown. From braids to buns, hair up, hair down, it seems every bride can wear her hair a different way, and there would still be options left.
First Way: Classic Updo
Updos come in many forms, from messy to chic, brides can tailor how they want their updo to look and feel. We believe up updos are the most versatile in terms of how well it pairs with wedding dresses. Most, if not all wedding dresses look fantastic with an updo. Hair worn up allows the bride to show her stunning face and allows the dress to stand out and shine.
A wedding crown and classic updo have been traditional wedding hair for as long as most can remember.
You can try Crystal & Pearl leaves Tiara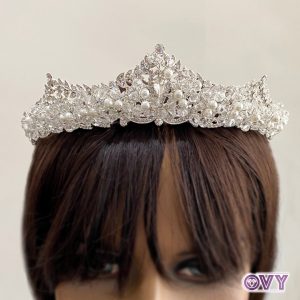 Second Way: Hair down
More and more brides are wanting to wear their hair down on the wedding day. Most women wear their hair down every day and don't feel like themselves with their hair up.
What we love about a hair-down bridal hairstyle is that you will not worry about an updo falling apart or taking off a ton of bobby pins once the wedding is over. You can try Silver Plated Majestic Bridal Tiara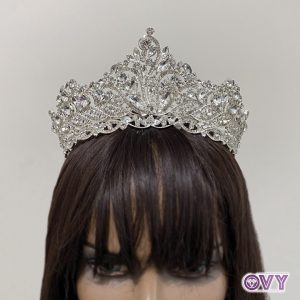 Third Way: Side Braid
Wearing your hair all over one shoulder makes it stand out from your everyday hairstyle.
Brides are living the playful and fun feel of a braid for the wedding day. What brides don't know is how a bridal braid works so well with bridal crowns and wedding jewelry. A bridal crown and a bride can give a bride a glam-boho kind of vibe that. Please check our hair vine collection and choose what you like