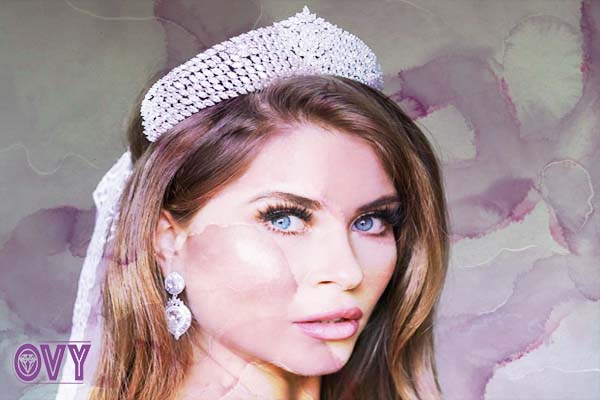 When it comes to wedding accessories, none is more hotly debated than the tiara – some brides-to-be believe that the traditional 'princess' tiara is an outdated piece that reminds them of children's fancy dress, but we believe that a woman's wedding day is a chance for her to go all out and make herself feel like royalty!
With the current bridal gown trends of long sleeves, capes, and higher necklines, the focus is all on the head and face when it comes to accessorizing these days. This makes tiaras a great option for today's brides, either worn with the traditional veil, or without for a more modern approach. And who doesn't want to feel like royalty on her wedding day?
Below are some of my tips for selecting the perfect bridal tiara.
The top 3 tips for choosing the perfect wedding tiara:
Your wedding tiara should be one of the last bridal accessories you purchase
Before you buy your bridal hair accessories, you should have your wedding dress and shoes already picked out. This is simply because your tiara should complete your outfit, not be the starting point for it. The tiara needs to enhance your entire wedding look. It shouldn't overpower your wedding dress or your facial features.
Your tiara should complement the shape of your face and your hair style, so it enhances your natural beauty and accentuates your most positive features.
Wedding tiaras can dramatically change your look for better or worse, depending on their size and placement. As a general rule of thumb, it's always advisable to keep your bridal hair accessories as simple and elegant as possible.
If you're plan on wearing a wedding tiara on your special day, make sure you do it right.
The tiara should not draw attention away from your face, but rather be an enhancement of your beauty. If you have an elongated face, you should avoid tall wedding tiaras which will only lengthen your face even more. Instead opt for tiara headpieces that add little height. A bride with an oval face can wear just about any accessory style because the face is well proportioned. However, keep in mind the groom's height if you want a tall tiara as you will not want to overpower him. A bride with a round face needs to choose a headpiece that will add some height or one that has a strong peak. Choosing a tall piece will help elongate your round face.
Wedding tiaras are statement pieces that let you add a touch of glamour to any event.
No matter your hair length—long, medium, even short—a tiara is a guaranteed way to add glitz to any down hair-do, but it is recommended that it does not outshine the bride. Your bridal hairstyle should also match the tiara. Decide what your hairstyle will be in advance. If you are planning on having a bun or other bridal upstyle, then choosing an elaborate style tiara may be a better choice. Otherwise, if you want to wear your hair down, then a dainty tiara will be a great choice, unless you have long, thick hair, in which case bigger hair accessories that can stand up to the weight will be the better choice rather than daintier ones, which will be less noticeable.
After choosing the right wedding tiara to wear on your special day, you must try it on to get the feel of it.
It must be sturdy but should not feel heavy on the head as it is essential that the bride be comfortable throughout the day. A bridal tiara headpiece is an important accessory that a bride can choose to wear on her wedding day. Although choosing the right headpiece should be given proper consideration, you must take into account that it is your big day and that no wedding accessory should be the center of attention. The accessories should enhance your natural beauty and accentuate your most positive features, so that you are the center of attention.
Make sure that you choose the best product that represents your style, personality and character.