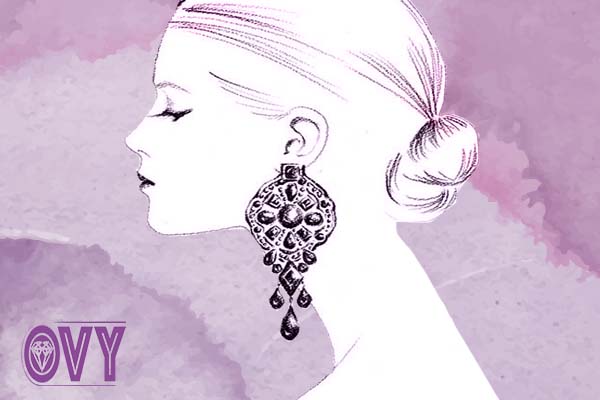 It's somewhat surprising to think that a small little earring could have a big impact on an outfit — but it can! The wrong earrings can be unflattering or detract from your outfit or face — but the right choice can turn heads and highlight your best features.
Generally speaking, there are five main face shapes: round, oval, heart, diamond, and square. Below, we will outline what defines each of these face shapes, share some great tips for choosing the best style of earrings for you, and tell you about some celebrities that share your face shape.
Earrings for an oval face shape
Oval faces are characterised by high foreheads and elongated features, narrowing slightly to a rounded chin. The oval shape is actually considered to be the 'best' face shape, especially when it comes to styling your jewellery.
The oval is the most common face shape and allows you to wear just about anything you like. The only things to avoid when it comes to earrings are long tassels or threader earrings that can stretch your face and make it look longer. Shorter earrings offer a more balanced look, and don't put an emphasis on the length of your face, while oval shapes are always a good choice to match your face.
Earrings for a heart face shape
The key to a heart-shaped face is a defined, angular chin and wide forehead, often with a defined widow's peak. The forehead will be the widest part of the face, tapering down to the jaw to a defined, almost pointy chin.
In terms of earrings, elongated designs will look very flattering for a heart-shaped face, highlighting and defining your cheekbones while accentuating the jaw line. Another great option to bring some balance to your look is to choose earrings wider at the bottom — almost like teardrops — to create the illusion of a well-proportioned face shape.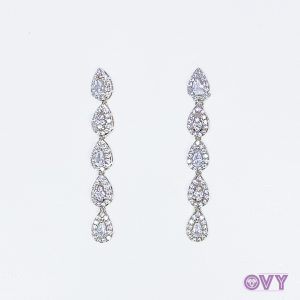 Earrings for a square face shape
Square faces are incredibly defined, with a strong, sharp jawline. From the forehand, down to the cheekbones and chin, square-shaped faces won't narrow much. You face will have very few curves, with most of your features sharing a similar width.
The best way to style this face shape is to choose hairstyles, makeup, and accessories that soften the jawline. That means anything with harsh edges should be avoided where possible in favour of hoops and long drop earrings with rounded designs. Elongated, dangling and hoop earrings are most flattering for square shaped faces. Earrings with rounded designs will soften the cheekbones and the jaw line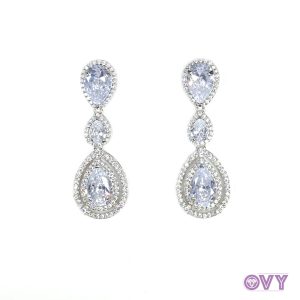 Earrings for a diamond face shape
If you've got a diamond-shaped face then your cheekbones will be the widest part of your face, tapering off to a narrower jaw and forehead. The chin will come to a point, similar to a heart-shaped face, however the hairline isn't nearly as wide.
The best way to balance this face shape is to choose hairstyles and jewellery that broaden the forehead and jawline.
Small studs or pearls are a great simple choice. But, for more length, look into teardrops or small hoops that stay close to the ear. Avoid styles that are overly heavy or dangling where possible.