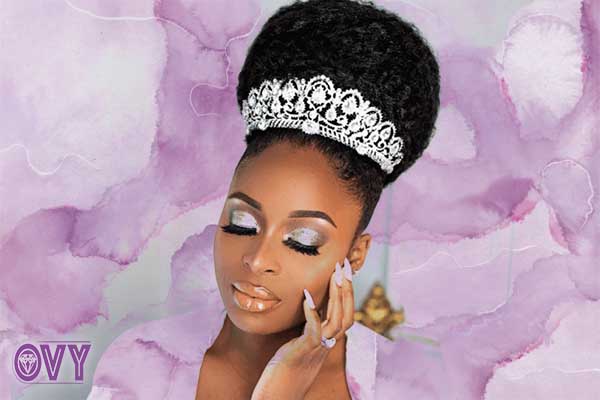 Getting married is one of the biggest life events, all eyes are on you so it's important that you choose what's right for you and your special day. You have to put so much trust in other people to get your big day look just right, so you'll have peace of mind that you'll look perfect when you walk down the aisle.
you'll ever have to prepare for and becoming a bride is an incredibly unique journey for every woman. Your planning list seems endless and making sure that everything is done and perfect ahead of your big day can be daunting and stressful. How you look on the day is also paramount.
Your personal style
The first thing to take into consideration when choosing your hair accessories is your personal style and the style of your wedding.
Stay true to your own personal style and look for pieces that really speak to you.
Your wedding day isn't the time to venture far from your personal style. Is your style more romantic? Then a sweet flower comb or hair vine will suit you beautifully. More of a trend setter? Go for a dramatic statement piece. Having a beach or destination wedding? How about a simple and elegant hair flower.
Decide what your hairstyle will be in advance.
You'll have to know more than just whether you'll wear your locks up or down. For example, if you're set on having a bun, do you envision a high ballerina style or a low one that is swept to the side? If you're blessed with long, thick hair, consider bigger hair accessories that can stand up to the weight, rather than daintier ones, which will be less noticeable.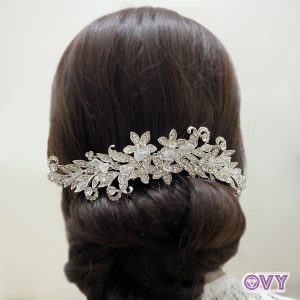 View each hair accessory from all angles
When you went gown shopping, you checked out each potential dress from the front, back, side, and up-close. This is the same concept: Get a 360-degree view of each headpiece you try on by asking the salesperson if they could snap a pic on your phone. (You might feel silly at first, but I found that accessories do look different depending on your vantage point.)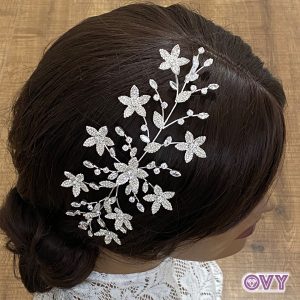 Take the color of the metal into consideration.
The hue of the wedding headpiece should complement the color of your gown. For example, if your dress has beadwork that is off-white or silver, a stark white headband may appear too bright next to it. If your style is vintage-inspired, consider a hair clip or headband that has exposed metal (rather than one that is completely encrusted in crystals).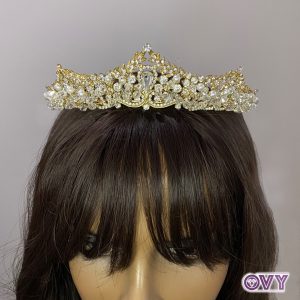 All of your accessories should work together in total harmony.
Your jewelry, headpiece, and veil should enhance your look, not distract from it. Edit, edit, edit — I went with a simpler veil than what I had originally envisioned, so that the focus would be more on my jewelry (priorities!).