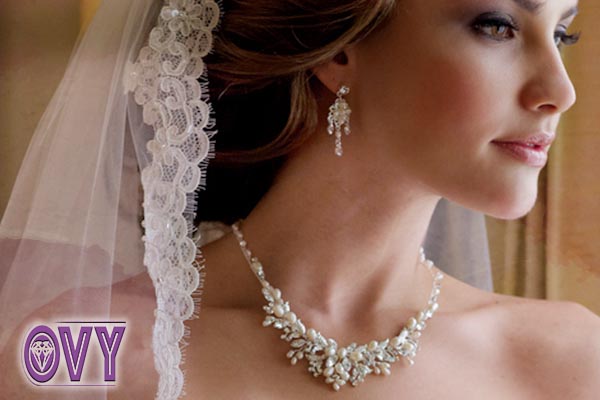 Picking your wedding jewelry can be a fun experience for you, but like many of the wedding decisions you'll be making, it can also be confusing. With so many pieces to choose from, you may wonder how many you want to wear, and then have to choose metal color, style, and so much else. Luckily, with our tips for picking your wedding jewelry, you'll find this easier than ever.
Don't try to be anyone else
Don't try to be anyone else. This is the most important tip. Wear what you want. If you generally don't like wearing jewelry other than a necklace, then don't change that for your wedding. You want to be focused on celebrating your love and marriage, not on noticing your bracelets clinking or feeling a cocktail ring on your hand that you don't like.
If you love to wear bigger earrings, then choose a pair of chandelier style to show off with a beautiful half up or full updo.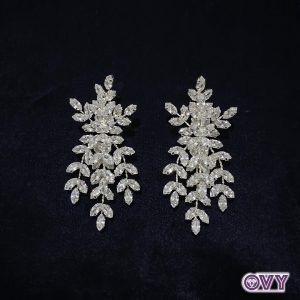 Don't overdo it.
The first commandment for picking out your wedding jewelry: Don't go overboard. No matter how tempting it is to load up on baubles and bling, you don't want to risk letting your accessories outshine you. Keep "less is more" as your mantra and stick with a few key pieces rather than accessorizing every part of your body.
You may try our Pearl Sunburst Pendant Set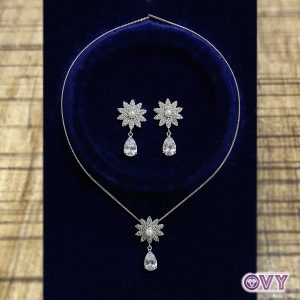 Match your metals to your wedding dress
So this can be interpreted in a few ways. The first being that if you have silver earrings, you want everything else to be silver, rather than having silver earrings and a gold necklace. So make sure whatever color metal you choose, you stick with that for every piece.
A white dress looks beautiful with silver pieces, while an ivory or cream wedding dress looks perfect with gold bridal accessories.
Focus first on your wedding dress
If your dress has a V-neck:
This style is made for décolletage decoration. Opt Earrings and Pendant Set, or try Pearl and CZ Statement Set. Pair the necklace with earrings, which could be small or dangling—whichever looks best with your hairstyle.
If your dress has a halter neckline:
Focus your accessorizing on your hair by decorating it with pins, combs or hair vines. These can be sleek, bejeweled or floral, depending on the effect you want. If you need a little extra something, wear a bracelet or cocktail ring.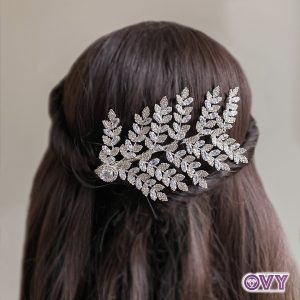 If your dress has a sweetheart or strapless neckline
Medium length pendants or medium length drop necklaces perfectly accent the dip in a sweetheart neckline. Simple necklaces, earrings, and bracelets tend to work best with sweetheart necklines, since this dress style has a delicate, romantic look.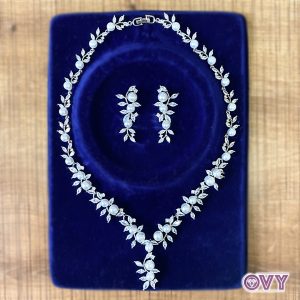 Finally, if you are not used to wearing that much jewelry, you may find that you feel very uncomfortable with wearing everything. While it makes sense to dress up your jewelry a bit more on your wedding day, you still want to be comfortable, so make sure that you choose pieces you are comfortable wearing. In some cases, especially if your dress is bejeweled, less is more.