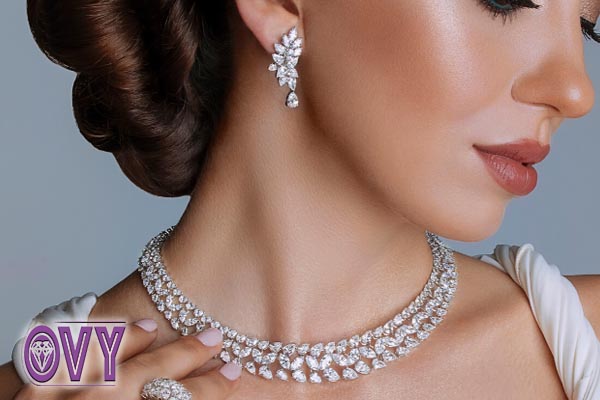 In 2020, weddings were uprooted, reformatted, relocated, and rescheduled more times than the bride and groom may care to count. While the pandemic has profoundly changed all things about tying the knot, it's also given rise to an exciting, unexpected array of bridal jewelry trends for 2021 — and they're good.
Now that we're over halfway through 2021, it's a great time to examine some of the most popular bridal accessory trends this year has brought with it. Take a look below at the hottest bridal accessory trends of the year so far to see if any of them fit in with your vision of your bridal look as you prepare to walk down the aisle.
Drop Bridal Earrings
Earrings are all the rage this wedding season, and drop earrings are playing a starring role. Particularly popular are earrings that feature diamonds, pearls, and beading.
Bridal Hair Accessories
Speaking of headpiece trends, Bridal hair vines are another big bridal accessory trend this year. These are versatile in the fact that they can go with either retro or classic dresses. These look great in an updo or braid and add a pop of pizzazz when scattered about in hair, providing a pop of sparkle or texture.
Colorful Bridal Jewelry
In your big day you may adorn yourself from head to toe in beaded jewelry. You may choose a full wedding set of earrings, necklace and bracelet
Jewelry in bright and bold hues is on trend for 2021. Stones in a blue or red color are more popular now than ever.
You may have a look at our bridal jewelry sets
Bridal Bracelets
A timelessly elegant bracelet can take a wedding style from great to excellent. A simple edition of a diamond bracelet effortlessly hanging from the wrist of the bride is enough to complete the look – and, more often than not, a bracelet is likely to pair well with any style of neck-lined wedding dress.
Whether you're looking for lariat bracelets or linked bracelets, our collection will satisfy you at reasonable prices.
Finally, Make use of these trends to create your dream bridal look, complete with all the accessories you could ever need!