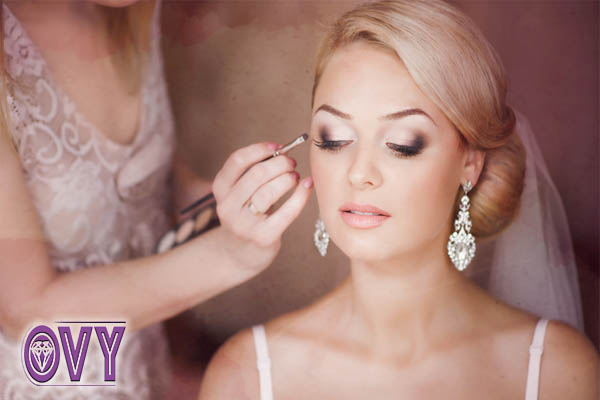 On your wedding day, it's your day to shine and you want to look and feel more beautiful than you ever have in your life. You also want to make sure that your look represents your style and the style of your wedding.
While trends may come and go, remember that makeup and hair are only one part of a larger day, a day whose purpose is to celebrate love and put your best foot forward on the start of this brand new chapter of your life. Choose a look that speaks to who you are, who you want to become, and what type of couple you wish to remain.
Stick to your style
Your wedding day hair and makeup should represent your personal style as well as the style of your wedding! As Ashley from Up Do's for I Do's points out, " This isn't the time to go overboard with something new that will drastically change your look!
Here is a list of the bare minimum that a stylist should know in order to create the perfect hair and makeup
Your Bridal Dress: Have a photo if possible, your stylist should take into consideration the style and cut of your wedding dress.
Theme: Is there a particular feel or "theme" that you are trying to create with your wedding and/or your look? Vintage? Classic? Romantic?
Your Makeup how much makeup do you normally wear everyday? When you go out? How would you describe your every day personal style? (casual, modern, classic, trendy, etc.)
Your Bridal Accessories
Being overwhelmed with the influence of social media and numerous bridal fashion blogs, it seems impossible to make decisions when it comes to wedding shopping. I have put together a few recommendations to make this task easier for you:
Think about how you would like to style your hair and what kind of veil you are going to wear (if so). Knowing a concept of your overall wedding day hair look will help to pick the right bridal headpiece .
Match your bridal hair accessory with your gown and jewelry: consider the motif of your dress, the materials – pearls, crystals or gemstones, as well as the color of the metal of your bridal accessories. A minimalistic, understated gown can be dressed up with a statement hairpiece, while an opulent wedding dress can be teamed with a more delicate hair accessory.
It is worth taking the size of the wedding hair accessory into account. Bigger tiaras or clips will look incongruous on petite girls or those with finer, shorter hair. On the other hand, small, delicate pins might get 'lost' in the volume of long, full-bodied hair.
Sometimes, the headpiece is the one that plays the pivotal role. If you are going to wear a family relic, be sure to talk about it at the very first meeting with your wedding stylist.
Your Wedding Details
The preview appointment should also be the time that your stylist educates you on what happens next (when payment is due, how long you have to cancel, what time they need to start, how many stylists they are bringing, etc.)
If they don't tell you this information at the preview appointment, ASK! When you leave your preview appointment, you should have 100% confidence not only in your stylist and your hair and makeup but also that everything is going to run smoothly and that you will be done on time. If you are not feeling 100% confident, keep asking questions until you do.
Ultimate Do's and Don'ts
most brides are looking for at least some guidance from their stylist when it comes to their wedding day look.
Some brides have a general idea and some are completely clueless what style they want. It is part of your stylist's job to help you figure that out. Even if you are on the clueless side, most likely, you are going to have something that you absolutely do or absolutely do not want when it comes to your hair and makeup.
Maybe you know for sure that you don't want red lipstick or that you do want to wear eyeliner. Maybe you absolutely have to have fullness to your hair or maybe you know that no matter what, you don't want to wear your hair in a bun.
Whatever it is, make sure your stylist knows your "desires".
A Picture is Worth a Thousand Words
Photos can be a great way to clearly communicate to your stylist your personal style and your likes and dislikes.
Photos can be a great way to clearly communicate to your stylist your personal style and your likes and dislikes. Keep in mind though that everyone's hair is different and every style is going to be different on everyone. If you do bring photos (even if they are similar to your own hair), they should be thought of as "inspiration" not "instruction" for your stylist, it is best to use them to show your stylist different features of particular hairstyles that you like (or don't like)