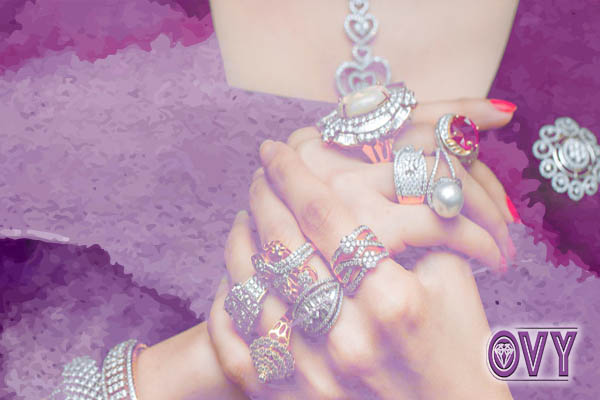 Accessories make an outfit. They can turn a boring ensemble into something fabulous and fashionable, or can make the latest fashion look dated or trashy. Don't know how to wear your accessories? Have far too many accessories but don't know what to do with them?
Like the look of what you see in stores and online but not sure what to choose?
Never fear: we've come up with 5 top jewelry style tips to help you be your fashionable best.
Carefully consider your earrings
Don't you find it can be all too easy to forget about your earrings?
However, your earrings are usually in the field of vision for anyone who is talking to you, so they are important. You should aim to choose earrings to frame your face and complement your hair, eye colour and skin tone.
If you have long hair a great tip is to select a color or metal finish which is more likely to be visible, depending on your hair color.
Don not forget to actually change your earrings
it can be so easy to wear the same pair of earrings for days or weeks on end. Or maybe you almost never change them.
But remembering to change up your earrings is a great way to add interest and style to your look day to day. It's also a great opportunity to give your favourite pair of earrings a good clean!
You can make changes to your earrings subtly and simply by trying drop pearl earrings. Or you can add some sparkle and movement with some dangle earrings, depending on your outfit.
Add a Statement Necklace
A good place to start is digging through your jewelry collection to find what you haven't worn in a while.
Necklaces studded with gemstones have now become the choice of most women. The beauty of the gemstone necklace is unique in its own way and if it has diamonds studded to it, it becomes all the more beautiful and attractive.
You can also purchase new pairs of earrings which catch your attention and will add some variety and interest to your jewelry collection.
Add Bracelets
Bracelets are an essential piece of accessory for women. In many communities, women wear the most beautiful bracelets as on their wrists as a symbol of beauty. The modern-day woman, on the other hand, loves to use bracelets minimally.
Bracelets add color and sound and are a traditional piece of jewelry in many countries.
Sunglasses
Sunglasses are the ultimate must-have accessory for summer. Not only do they protect your eyes and help minimize skin damage, but a great pair of shades simply makes you look cool in a way no other accessory can. With so many designs and materials to choose from, trying on different looks is half the fun. Retro styles are especially hot right now — particularly the 1960s-inspired cat's eye design.